Yu-Gi-Oh Ghosts from Past 2nd Haunting Box DE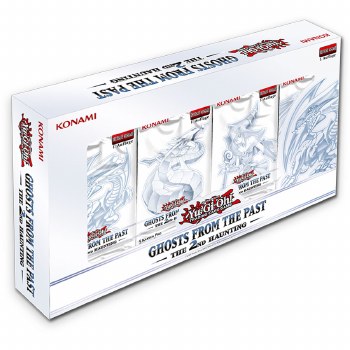 Yu-Gi-Oh
Yu-Gi-Oh Ghosts from Past 2nd Haunting Box DE
Product code: KONA943915
CHF 19.90
Description
Yu-Gi-Oh! Ghosts From the Past: The 2nd Haunting Box

Ghosts From the Past: The 2nd Haunting erscheint im April 2022 und ist die Fortsetzung von Ghosts From the Past aus dem vergangenen Frühling! Es hat mehr von allem, was Ghosts From the Past zu einem Riesenhit gemacht hat, darunter sogar noch mehr seltene Geister!

Dieses All-Foil-Booster-Set beinhaltet einen gigantischen Mix aus Premium-Turnierfavoriten, Dutzenden anderer Karten, die zum ersten Mal ein Foil-Upgrade erhalten, und brandneuen Karten mit mächtigen neuen Monstern wie Kristallungeheuer Regenbogendrache, Dekodier-Sprecher Heissseele und Kalliberende-Drache. Alle seltenen Nicht-Geisterkarten im Set werden ultra-selten sein.

Einige Boxen beinhalten sogar eine von NEUN neuen seltenen Geisterkarten, darunter alte Favoriten wie Cyber Drache, Dunkles Magier-Mädchen und Blauäugiger w. Drache. Und nicht nur die Liste seltener Geister wurde erweitert, sondern auch die Drop Rate. Diesmal ist es also zweimal so einfach, einen seltenen Geist zu ziehen! Hinzu kommt noch: Jede Box von Ghosts From the Past: The 2nd Haunting hat vier Packs anstatt drei, sodass du pro Box noch mehr Karten hast!

Ghosts From the Past: The 2nd Haunting ist ein All-Foil-Set, und jedes Pack aus jeweils fünf Karten kommt mit fünf ultra-seltenen Karten, von denen eine durch einen seltenen Geist ersetzt werden kann.
Reviews
Customer Feedback
No feedbacks available for this product.
Write Feedback
Please login to write a feedback for this product.
Check out our latest news on Instagram