Oceans Deluxe Edition EN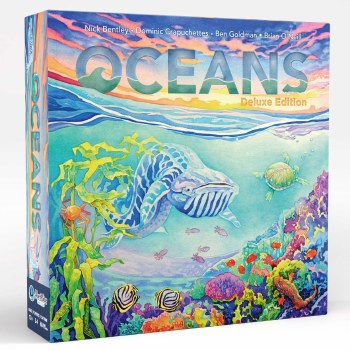 Oceans Deluxe Edition EN
Product code: NSG531
CHF 99.00
Description
Player: 2 - 4
Age: 12+
Time: 60 - 90 Min

Oceans is a 2-4 player board game in the highly acclaimed Evolution series. Oceans is an interactive engine builder where players evolve species in a continually changing ecosystem where everything is connected.

Oceans is in the top 1% of all games ranked on popular tabletop site Board Game Geek.

An Ocean Full of Life: Enter a vast, underwater cosmos: a mysteriously interconnected world of tentacles, sharp teeth, and black ink, where you must adapt to a continually changing environment.
Adapt to a Connected World: Using an easy-to-learn but deep system, players use trait cards to create and adapt their own aquatic species.
Strategy Beneath the Surface: Oceans is a highly thematic engine builder, where everything is connected and players can create powerful synergistic systems between their own species and other players.
Journey Into the Deep: Featuring nearly 100 unique trait cards, The Deep represents the unknown: the undiscovered wonders of the deep ocean you'll be exploring over countless games.
Great for Game Night: Featuring over 100 pieces of stunning art and gorgeous tactile components, Oceans is ideal for your next game night.

Oceans depicts the boundaries between the known world near the ocean's surface, and the mysteries lurking in Earth's deepest unexplored regions.

Lurking below the surface lie mysteries so bizarre they hardly seem natural. Oceans includes "The Deep", a deck of nearly 100 unique traits that you'll discover over the course of many games. These powerful traits represent the unknown: the undiscovered wonders of the deep ocean.
Reviews
Customer Feedback
No feedbacks available for this product.
Write Feedback
Please login to write a feedback for this product.
Check out our latest news on Instagram