Bloodstones EN Kickstarter Exclusive PREORDER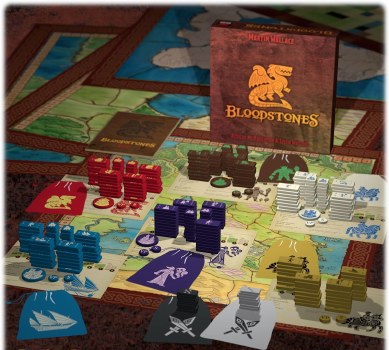 Bloodstones EN Kickstarter Exclusive PREORDER
Product code: WDBLOOD01
CHF 129.00
Description
THIS IS A PREORDER KICKSTARTER ITEM SET TO RELEASE AROUND JULY/AUGUST 2023

Players: 1 - 6
Ages: 14+
Time: 60 - 180 min

Bloodstones is a fantasy wargame for one to six players, featuring six different races, each with their own specific powers. Each of the six races in Bloodstones has its own mix of units, represented by domino shape tiles. Some of these units will be unique to that race, such as Dragons to the Dragon Riders and Giants to the Hill Folk.

The aim of the game is to have the most victory points at the end of the game, which can be gained by building your own and raiding other players' villages and by winning battles.

At the start of the game players will arrange their tiles into stacks. From these they draw a starting hand of nine. Players then decide where to place their Citadel and which tiles will be placed with it. The tiles are multi-use. When placed on the board they becomes units, the type indicated by the symbol in the centre. While in your hand they can be used to build other units, move units, improve your Combat Strength, build villages and raid villages.

The main part of the game proceeds with player turns. When it is your turn you can perform as many actions as you wish. However, some actions have restrictions as to when you can perform them.

After you have completed all of your actions you draw back to your hand size of six tiles. If you exhaust your stock of tiles then you shuffle your discarded ones to make a new draw stock. You also score Victory Points for villages you have on the board.

The game will end when each player has scored points a number of times. With two players this will be three times, for three or more players this will be two times.

The Game Includes:
2 Fabric Maps
148 Faction Tiles
80 Village Tiles
4 Citadels
8 Game Markers (VP and Shuffle/Regroup)
16 Battle Tiles
4 Faction Cards
6 Velvet Bags
1 Travel Bag
1 Rule Book (including Solo Mode)

Now also Included:
3 Additional Fabric Maps
72 Additional Faction Tiles
20 Additional Village Tiles
1 Additional Citadel
4 Additional Game Markers
2 Additional Faction Cards
2 Additional Velvet Bags

All Six Factions, Each with plastic Tiles & a faction Card
353 Flastic Tiles & Markers

More information about the components:

All the tiles and markers are High Impact Plastic, with heat-transferred artwork. This has a similar feel to the tiles used in Azul. More tile information here.
The Maps are soft, made from 170gsm faux silk, and lay flat on a table while reducing weight. Dimensions are 73x61.5cm for most maps (the 5-6 play map will be larger - dimensions to be shared when I know) More map information here. The maps are machine washable (cold water) You can see the map (old art) movement here
The Faction Cards are double-sided, and printed on 250gsm paper composite, which is the stuff that's impossible to tear.
The Bags are made from velvet, with machine embroidery. You can see a bit more about them here and here
The Box is linen-finished and printed on the inside, both lid and bottom.
The Rule Book is printed on thick paper, with a linen finish applied.

Also, to add for the Map Artwork; these are all hand inked and coloured in water colour. A lot of love and care has gone into these maps.
Reviews
Customer Feedback
No feedbacks available for this product.
Write Feedback
Please login to write a feedback for this product.
Check out our latest news on Instagram